Halloween Witch Amulet
Topic: Beadwork Photos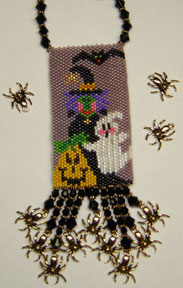 This is one of my amulet purses that was in Bead & Button Magazine. The pattern (including suggested Delica bead numbers) is available in my Bead Pattern Shop.
This amulet was especially fun. I used gold-toned spider charms (FireMountainGems.com) on the fringe.
I've made this amulet several times as a special order. It actually works up pretty fast. I like patterns with a lot of different colors. I'm so focased on each color change that before I realize it, I'm half-way through!

Posted by polarbeads at 6:26 PM YDT